CALVIN BASSEY TALKS FAITH, WARZONE AND DRESSING ROOM DRIP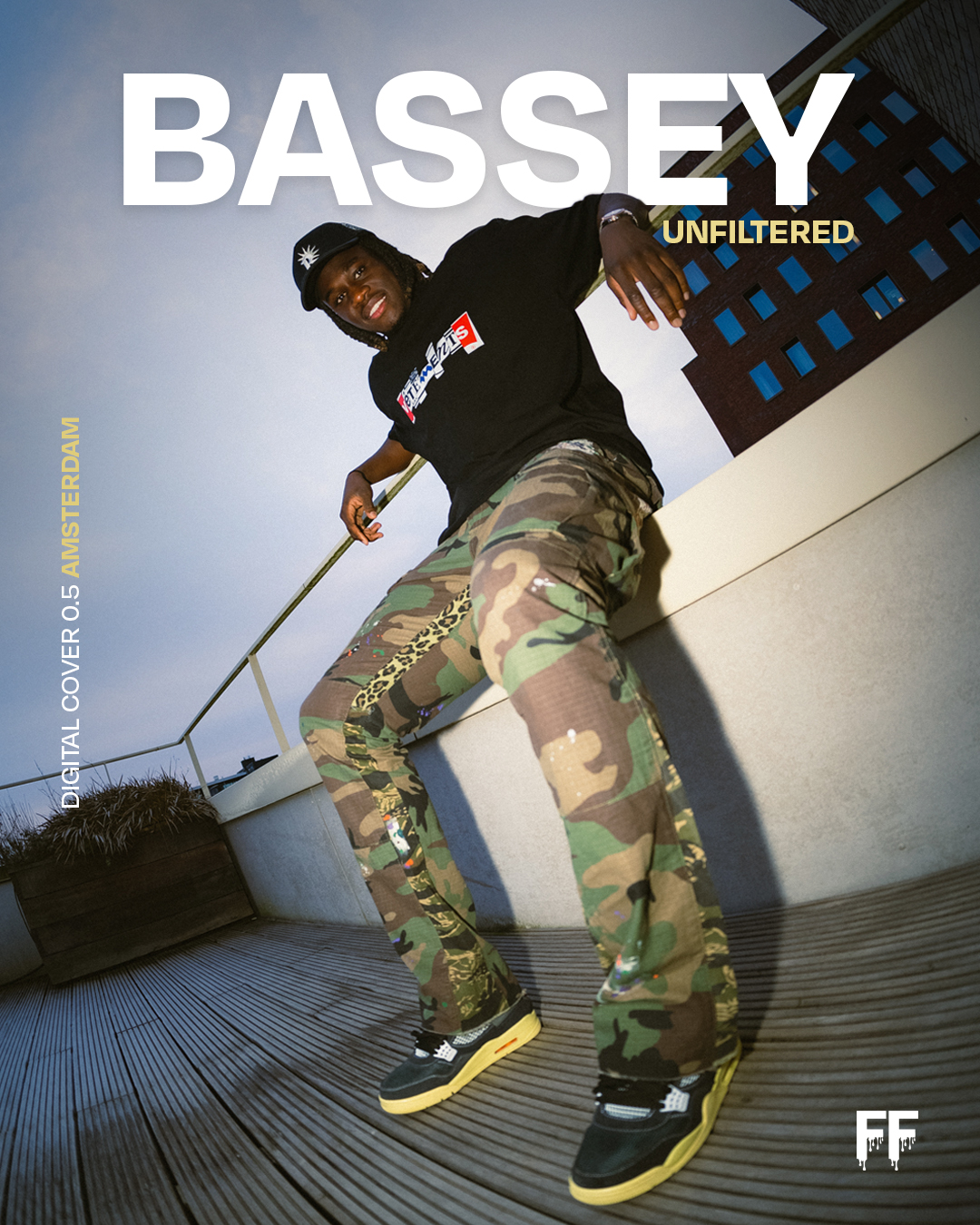 "It's crazy man, crazy. It's like sometimes it doesn't feel real," says Calvin Bassey, reminiscing on his rise through the footballing ranks.
Aged just 23, the Italian-born Nigerian who made his name in Scottish football with Rangers is now taking on a new challenge at one of football's biggest clubs in Ajax, whose world-renowned reputation for developing players was one of the biggest deciding factors in his decision to swap Glasgow for Amsterdam.
"Everyone knows about Ajax, it's the best school to learn and improve in football, so it's just good to be here," Bassey tells me. "It's been different. Being away from family, it can be hard at times but we're all on a mission and it's the best thing for my career. I've come to one of the biggest clubs in the world."
Aged 15, Bassey joined Premier League side Leicester City and progressed through the Foxes' youth set-up, featuring regularly for their Under-23s. Despite this, he never earned a senior appearance for the club and would later sign for Rangers on a free transfer in 2020. Fast forward two years later, Bassey would go on to make his Champions League debut this season in Ajax's 4-0 win over his former club Rangers, something the defender believes was fate.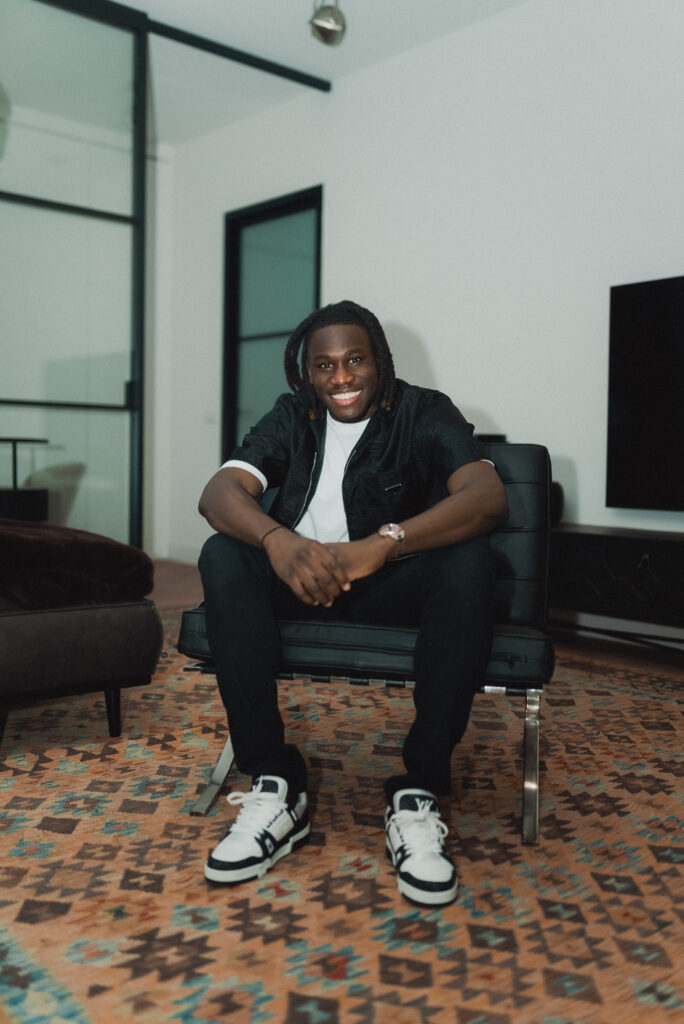 "Sometimes you have to pinch yourself. I couldn't believe it!" Bassey tells me four months on with the same level of excitement you'd expect from a post-match interview. "It was against my old team as well, so it was a bit weird but it was like it was meant to be. It just goest to show how far hard work, commitment and focus can get you. I plan to keep that same discipline, desire and focus I've had so that I can keep pushing." 
Keen to capitalise on Bassey's endless joy when discussing that moment in his career, I ask him just how special hearing the Champions League anthem really is, to which his eyes light up further. "You can't put it into words how it feels…hearing it really is a dream come true." 
"Every kid wants to play in the Champions League so when I was there, it felt surreal. I still remember the video that went a bit viral. I was smiling as it played, I was a bit like 'woah', it's a dream come true honestly."
From Leicester's reserve sides to Champions League territory in such a short space of time could be daunting for many players but not for Bassey, whose energy for his career and life in general has become so infectious I begin feeling as though I'm there standing side-by-side in each moment with him.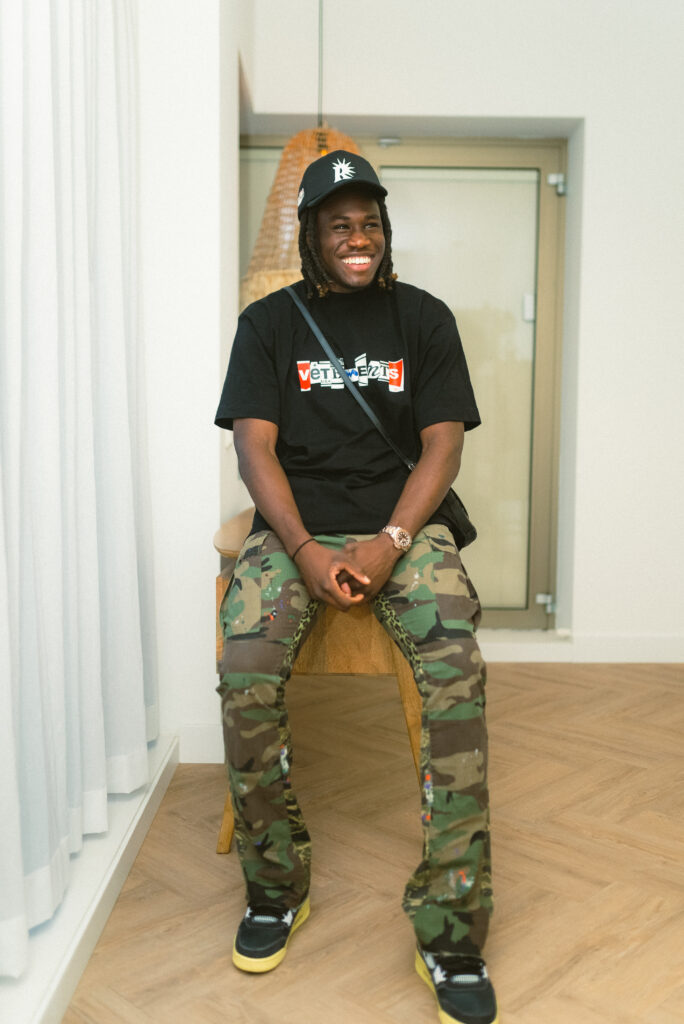 "Everyone loves a Champions League night. The atmosphere is crazy! The teams you're playing against and some of the players you face. I used to play as them on FIFA not too long ago and now I'm playing against them… it's a bit mad. Playing against Liverpool and you're playing against the likes of Mohamed Salah, Virgil van Dijk and Thiago."
"I've watched Thiago for years and to be on that pitch with him was unreal. When you get into the game, it's game mode and you're locked in but after, you appreciate it and when you see a picture of you two together you're like 'oh s***, that's me you know', Bassey laughs. "But it's nice to be on that stage and be able to test yourself against some of the best players in the world." 
After leaving Rangers, Bassey became the Scottish club's most expensive player sale in his £20m move to the Eredivisie despite only spending two years at Ibrox. His journey to Ajax, who carry the nickname de Godenzonen (sons of the Gods), is one that Bassey believes has been down to his faith. "I'm very religious. I'm a Christian, my Mum brought me up to be a Christian and for me, my faith is one of the strongest things I have."
"When things aren't going well, I look up or I might say a little prayer when I'm on the pitch because I feel like it gives me strength. It's my life really. My faith is my life. It shows my journey as well because how many kids want to be footballers in England? I believe the faith I have has got me here."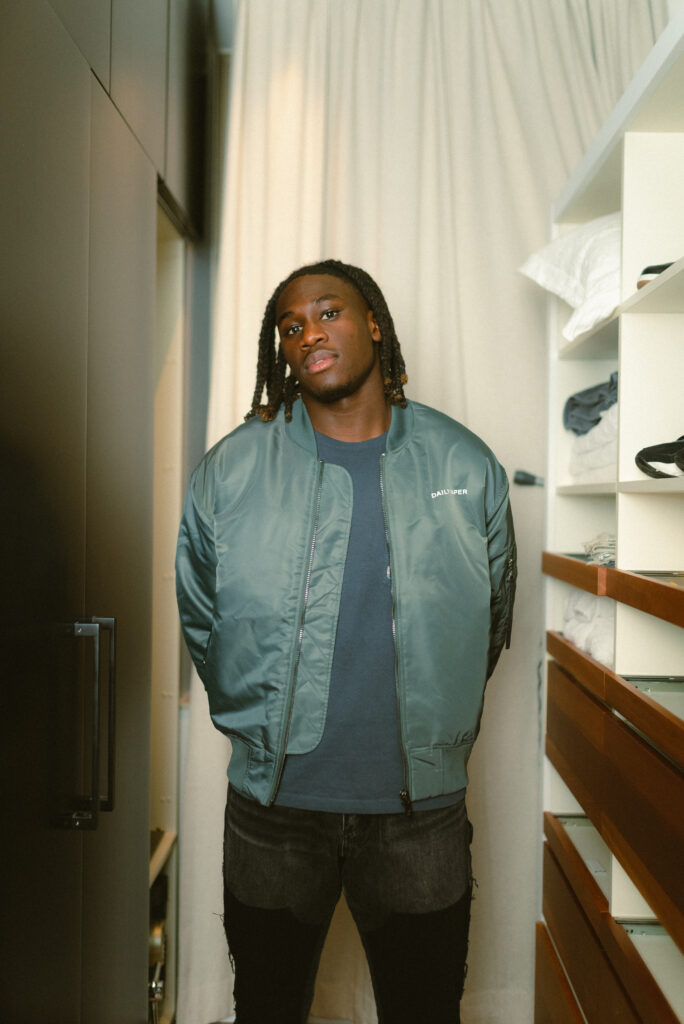 Here being the biggest club in the Netherlands, a country with a national team known for their dress-sense when international duty arrives. From Memphis Depay to Steven Bergwijn, the Dutch hold their own on the drip front, something Bassey is now getting to see first-hand.
"Ay, these boys got drip you know," Bassey reveals after being quizzed on the style in Ajax's dressing room. "Best-dressed in the team?" he says firing my question back at me. Amidst a huge grin, he takes a second to exhale, attempting to relieve all of the pressure from a question that has friendships riding on it. "There's a couple," he responds, unable to pick just one from a squad full of fashionistas.
"I like the way Steven Bergwijn dresses, then you've got Jurriën Timber as well. Devyne Rensch is a good dresser and Brian Brobbey, they're more my style. They can do like the smart casual or they can do the going out drip, so I think them lot."
Inevitably, I then prod him to name the worst-dressed in the squad. "I knew this was coming! I knew this was coming!" Bassey says in laughter. "I've got one in mind you know," he says laughing once again but this time with both hands covering his face. "I've got one in mind but I can't do my guy like that, I can't do my guy like that! We always get on to him for how he comes to training, obviously I know it's just training but sometimes, wow… he drags it. But I'm not going to say his name because I've got too much love for him, man."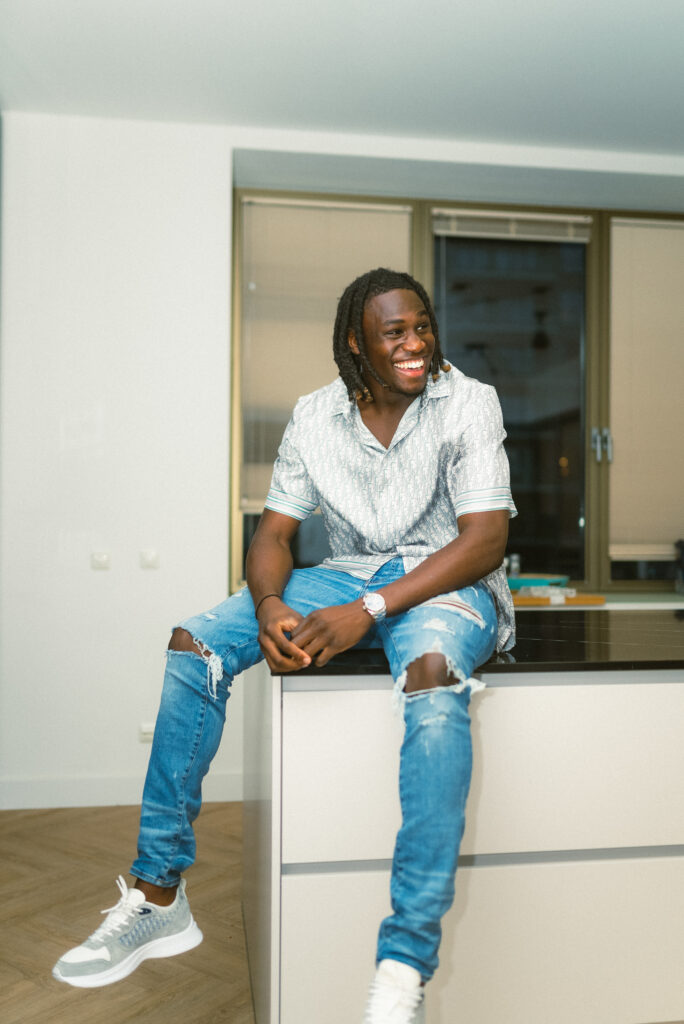 Away from the dressing room, Bassey's source of inspiration for style, like many, comes from social media. With football and fashion continuing to grow to new heights, players are fast becoming fashion icons for not just Gen-Z but for fellow ballers too. "When I'm scrolling on Instagram, Joe Willock comes really clean. Reiss Nelson too, he's clean. Then I've got my boys like Glen Kamara and Joe Aribo, I think they dress nice. Nnamdi Ofoborh dresses nice as well and obviously some of the Ajax boys but aside from who I know, Joe and Reiss, I'm really rating them." 
Bassey himself doesn't claim to be one of football's best-dressed just yet, instead, he humbly asks for my opinion on each piece he has laid out on his bed during our shoot, keen to hear ideas on if anything else in his wardrobe would work better. Whilst his rise to Ajax has allowed him to have more options to choose from in his outfits, his admits his childhood drip didn't quite have the same luxury.
"Yeah I can't lie, I used to rock the astro's you know. The Sondico ones were peak! I used to wear astro's with everything, even jeans. When you're younger, you don't think and you don't care as much. All I cared about is that if I had to look smart then I was also still able to run and play football. I had to try and do both! My drip was a bit mad back in the day," Bassey admits with a smile, a common theme throughout our conversation.
Now finding himself in a position to experiment with his style, I ask him which has been the worst purchase he's ever made and in typical fashion, Bassey's response doesn't disappoint. "The mandem get on to me sometimes because I've got this camouflage Moncler jacket. They really get onto me for that. They got onto me for some Jordan 1s, the black and yellow pair, yeah they gave me stick for them. They were calling me bumblebee and that," he says bursting into laughter along with the rest of us in the room. "To this day, the laces haven't even been done. Only one shoe is done, the other still isn't. I haven't even worn them so I think that traumatised me a bit still."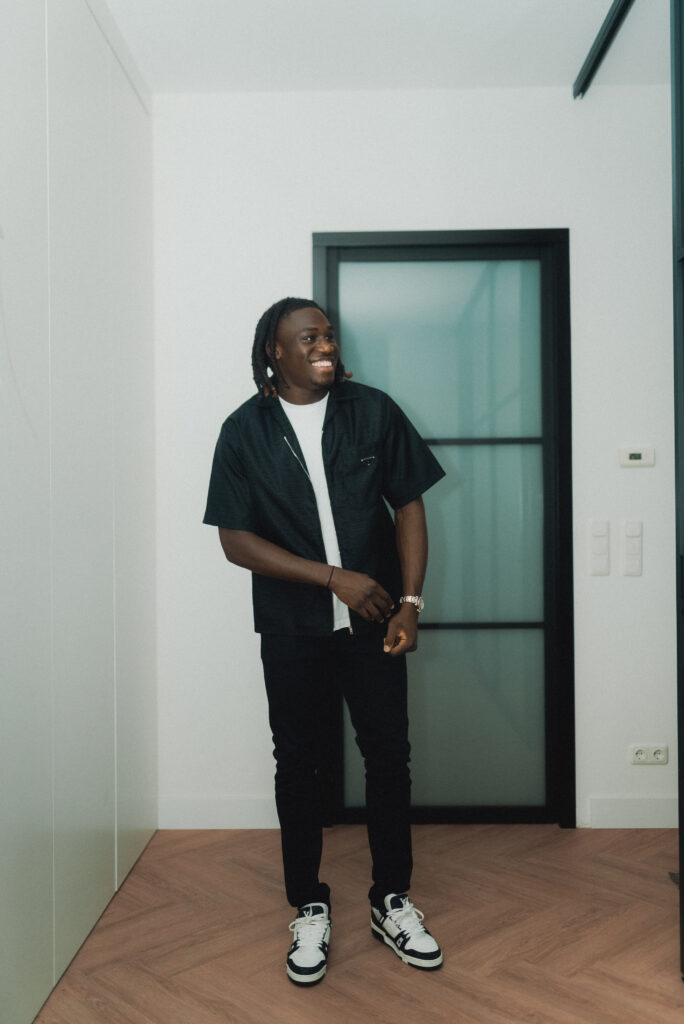 Whilst the black and yellow Jordan 1s don't get to see the light of day, Bassey opts for a classic when I ask him to choose one pair he'd wear for the rest of his life. "White Airs. White Airs. CLEAN! "They go with anything, you can chill it out, you can dress it up. White airs, man. It has to be," he says on the Nike Air Force 1.
Having excelled from youth football to Europe's elite within such a short space of time on top of the mental and physical demands football places on each athlete, Bassey's life would predictably have been quite hectic in recent years and he now finds himself in a new country without his family or long-time friends always being around, something many can find difficult. The defender admits whilst it's something he's now used to, other players in similar situations shouldn't suffer in silence.
"I think the awareness of mental health in football has gone up massively," Bassey tells me.
"I've lived away from home since I was 15, so I know how hard it can be moving away at such a young age. There are people in harder situations, I was only two hours away from home and I was still struggling. I can only imagine how it is for players that come from other parts of the world and with that, I think there needs to be more resources available for them to talk and ask for help if they need to. It's equally, if not more, important for young players to have that support too. They need to feel comfortable enough to know it's ok to share how they feel and ask for help if they need it.."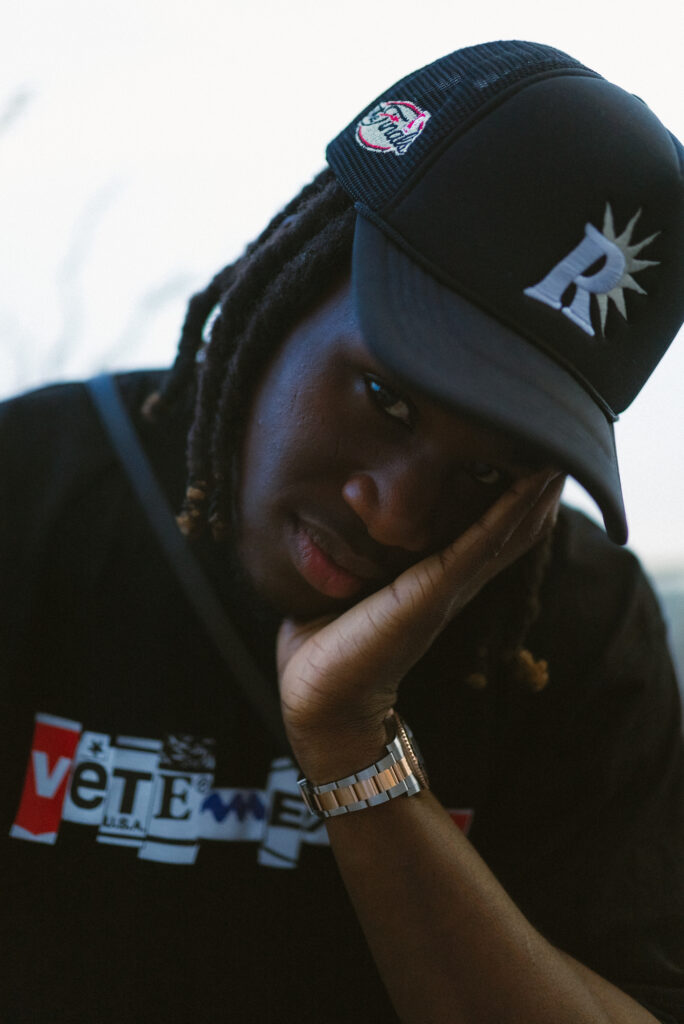 Despite the distance between Bassey and his friends, modern-day technology has helped to reduce the impact of being apart with gaming being the way the Ajax man reconnects with those outside of Amsterdam when he finds himself with some downtime.
"How do I relax? COD or FIFA with the boys. I play Ultimate Team but do you know what, FIFA was out for like a week and I'm seeing people with Thierry Henry in their team and I'm like 'nah man'. It's unfair. I've got myself in my team and I'm trying to play against someone who has Henry, I don't stand a chance, you know what I'm saying?"
After the laughter settles, I ask how often he uses himself in the game. Again, Bassey brings the humour in his response: "I got the 99 special-rated card of myself but I'd never buy myself because I want gold players and I'm silver, what the hell am I going to do for my team? I normally make a strong Premier League squad or something like that."
"Warzone? BIG. I play that a lot," Bassey says in reference to the latest Call Of Duty. "We've been off it the past couple of weeks with the World Cup and different schedules but normally, during the season, we've got our four and we're in. Sometimes they snake me because of the hour timezone difference but I've got my four that normally play together."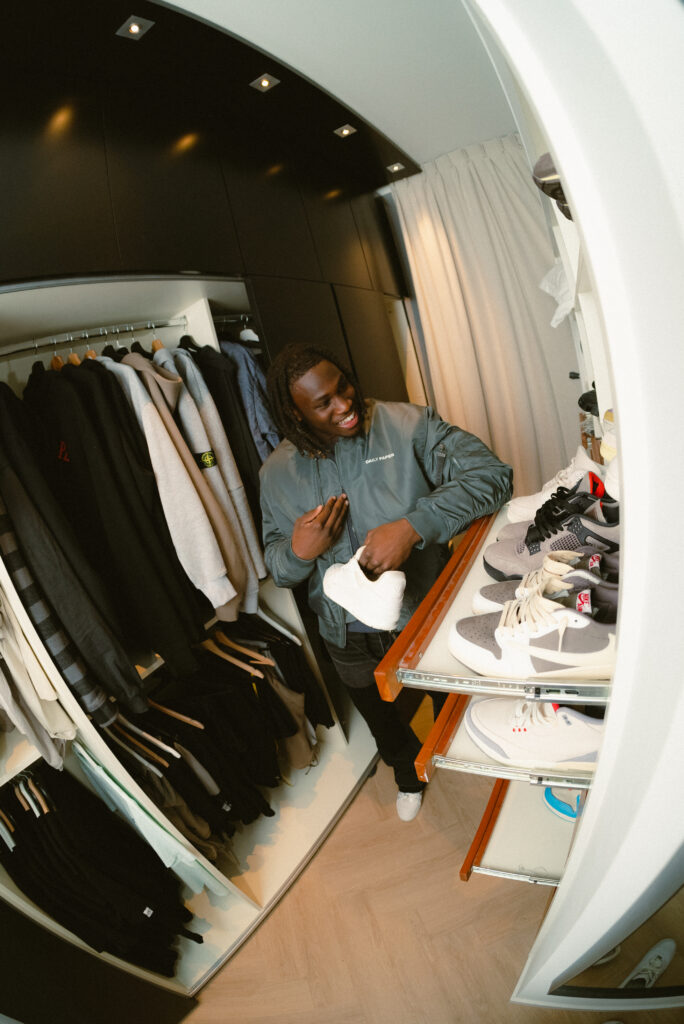 "My squad is me, Joe, Glen and Nnams. Glen, we call him Capitano. He's COLD! Glen is one of them where there are two people left and he's by himself and you'll just back him. His IQ on the game is a joke. He's so good man."
Like gaming, music is another thing Bassey finds enjoyment in away from the pitch. "I could hop up on as the DJ and be confident, yeah," he says with his ever-present smile.
"I've got different genres depending on how I'm feeling. I've got the party vibe, Lil Baby, Gunna and Young Thug and then I can switch it to Michael Jackson, he's cold! I can even switch it to Ed Sheeran or Adele. I think Adele is BIG! In the morning, driving in, nobody needs to be listening to fast songs. You gotta' slap on a bit of Adele and Ed Sheeran."
With Bassey in the flow and answering my questions with ease, I hit him with a tougher one, making him choose only three artists to feature in his everyday playlist. "Rah, that's harsh you know!" he says, struggling for words for the first time this afternoon.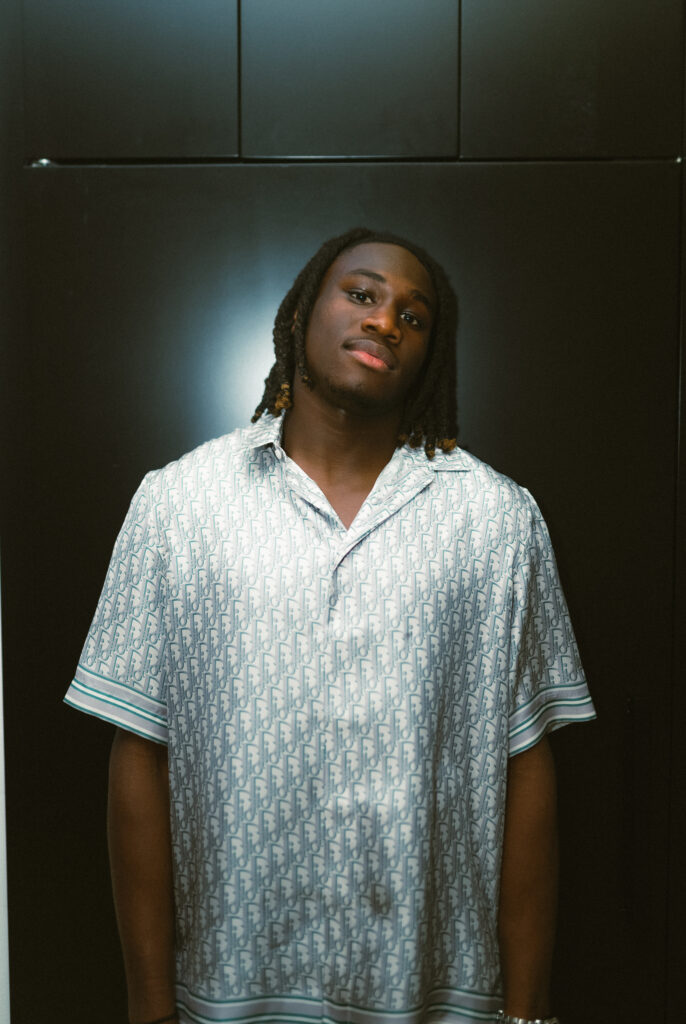 "I would say Lil Baby, actually, I don't know because I can't have two U.S artists. Can I put Lil Durk and Lil Baby as one? Those two as one. That's a hard question you know… Ed Sheeran, because I think sometimes you need a bit of calm, relaxing music and then… you've got me here mate."
Happy in my accomplishment of making Bassey's mind tick, I then give him an easier question next, to name his favourite album of all time. "I've got to say the Lil Baby album when Time came out, the track with Meek Mill. Street Gossip, yeah that's it. It had just come out and I banged it. I ain't banged no other album like I banged that one! So probably Lil Baby Street Gossip."
Though he doesn't lack confidence in regards to his taste in music, Bassey being new to the scene at Ajax means he's not quite qualified for the role of the dressing room DJ yet, instead a surprise choice takes over the role.
"It's Daley Blind [before his Ajax exit] or Kenneth Taylor. Daley surprised me as well because I was thinking 'who is on DJ' and there was Daley and I was like 'yooooo, alright!'. He's got a bit of everything. He's got like Dutch music, he's got Burna Boy, Afrobeats, Latino for the Latino boys so he mixes it very well for the whole team so I'm having it."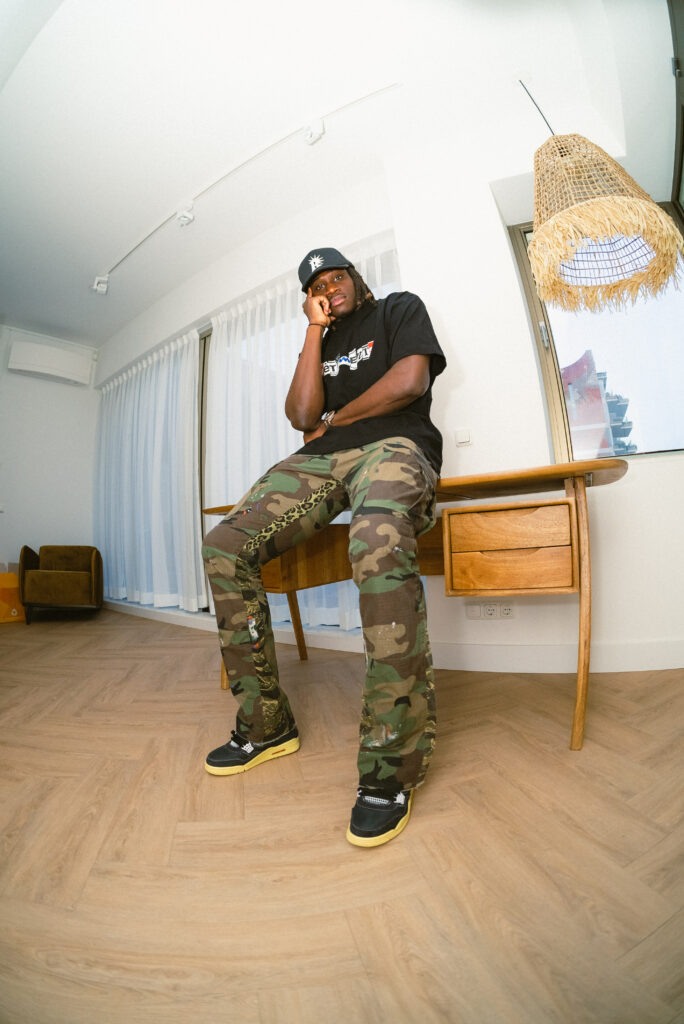 "On match day, I like to listen to Gospel but then like right before I might listen to something that gets me amped, like drill. It depends on how I'm feeling. It depends on my mood on the day."
To many, Bassey's rise may be a pipe dream. After rejections in his youth ranging from Leyton Orient to Crystal Palace, losing hope and giving up would have not only been reasonable but expected. But Bassey, against all odds, made it to Europe's greatest stage before his 23rd birthday. Now, with the blueprint in his hands, he's aiming to create a legacy to show others from a similar background that they can do it too.
"I want to show kids from my area and less-privileged areas that they've always got a chance. With hard work, focus and dedication, they can achieve whatever they want. I think that's the biggest thing and something I try to spread now, to all the kids, if you have a dream, stick to it and give it all you can," Bassey says, expressing his vision passionately.
"I've always said I'd rather give my best and if it's not good enough, know I gave everything I could rather than just give up because it was too hard. If you give your best every single day, you won't waste a day of improving."
Photography by Shane Bain.
Styling by Calvin Bassey himself.
THE FLYEST FASHION TRENDS FOR THE NEW FOOTBALL SEASON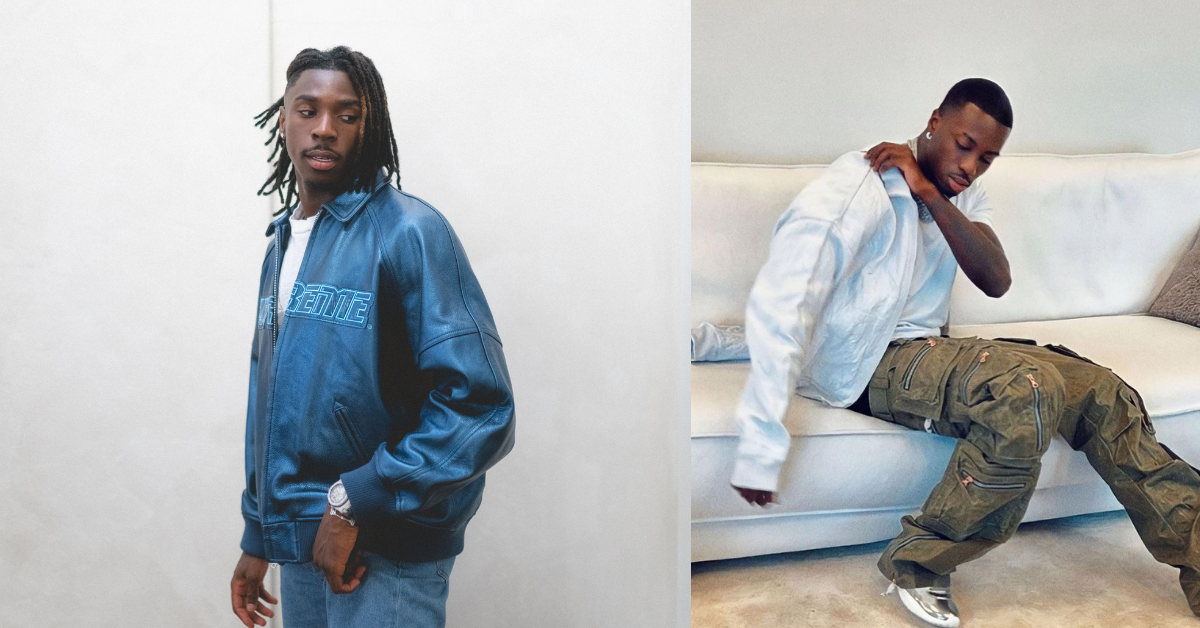 Without a doubt, it was an eventful off-season for football. Our favorite ballers have gone from movie-level holiday scenes, all the way into the recent round of international friendlies stateside and beyond. A hectic way to introduce this weekend's all-new league title race, to say the least, but we're here for it.
From the Bundesliga to La Liga, the Premier League & Serie A, the top style prospects – some new like the youngbloods on Chelsea's roster, some veterans – have used this downtime wisely & carried the fashion game on their backs, using any opportunity to showcase their individual styles and character through clothing. 
We've seen an impressive variety of fits and dress codes, with players cooling off – and loading up – as far as hillside & courtside L.A. to NYC, beachside in Mexico, yacht settings in French Riviera spots, Mykonos & Ibiza, to kicking ball in Asia. There's no telling how many beige private jet interiors and clearport content we've seen from this season…and we're not mad at it.
Take AC Milan star forward Rafael Leão for example. Just like his on-pitch play – the smooth stepovers, risktaking strikes – he's recently come into his own style-wise too, developing much more confidence in his creative flair and how he pulls his fits together. He's already been coming different with the flat caps, jorts and penny loafers. Tuff.
In anticipation of the new pre-game looks this season, we peeped the braziest fits of the past few months to bring you a round-up of the current fashion trends that are here to stay. Fellow ballers, stylists, personal shoppers, boys and girls of the FF community – take notes (or screenshots).
LV To Kenzo: Luxury Brands Still Have Motion 
Clearly, Louis Vuitton's streetwear-luxury reign has been extended with Pharrell's takeover. More than ever, the brand has a growing pull that keeps players loyal to their designs – even without sponsorship deals. The likes of Jude and Jobe Bellingham, Sancho & Marcus Thuram pulled up kitted out in LV to Skateboy P's opening SS24 Paris Fashion Week show and did numbers on the 'Gram and TikTok. 
Just like Pharrell, O.G designer and BAPE founder Nigo has brought new eyes to legendary brand Kenzo. The vibrant blend of preppy Parisian vibes with real Japanese formalwear is slowly picking up momentum & motion and saw shots & footage of Leroy Sané and girlfriend Candice Brook in full Kenzo drip at June's show went viral across socials. It's no wonder why given the traditional Japanese wrap shirt and wide-leg pleated pants the Bayern Munich winger rocked brought a whole new level of drip to the table, It's time to see more players taking a chance on Kenzo's graphic tees, kimono wrap-style blazer jackets and their cold denim pieces going forward.
Now take this in… Jules Koundé's appearance at both Kenzo & Louis Vuitton's shows alone made him the third most influential athlete – behind Lebron James and Lewis Hamilton – stacking up almost $1 million in media value* for brands just from online engagement, per lefty.io. Footballers as a whole made up 14% of Fashion Week's media value. Stats that prove ballers aren't ditching pieces from the world's biggest brands just yet.  
This season, we're hoping to see for ballers rock the new camo, "Minecraft style" Damier LV print pieces introduced by Pharrell. Don't be surprised to see the new "buttery" leather monogram speedy bags and the latest selection of solid leather jackets either, which have already been seen on Inter Milan's Marcus Thuram.
The LV x Kid Super Autumn / Winter '24 collection is one to watch too, most notably the easily identifiable patchwork-face outerwear, donned by Chelsea's Diego Moreira and renowned baller fashion-head Jesse Lingard.
Classy And Elegant Flex 
Over the summer, we've seen luxurious vacation views and even more luxurious drip from the game's biggest players. There's been a clear shift, where ballers are wearing much more formal, understated, and classic fits. Take the classic tailored pants, the linen shirts and even the suede Loro Piana summer walks rocked by Juventus' Moise Kean for example.
They've all been keeping to the unspoken yet strict color scheme too: cool beiges and browns, calm blues and crisp whites. The unshakeable Ousmane Dembélé – now at PSG – and Atlético Madrid's Memphis Depay are just two ballers doing just that.
This classy theme is heavily inspired by the sweet, city life of fashion hotspots like Milan, Monaco, London and Paris. A life that calls for quality and coolness in all areas. Don't get it twisted though – there's no age limit on this trend. Young players like Liverpool's Stefan Bajčetić have stepped up and made this their own. Check his 'Gram for proof. At only 18, he's yet to miss with once in the fashion regard. Designer Martine Rose also had the USWNT looking dapper & chic in their custom pre-game suits at the Women's World Cup.
The cooler months will call for high thread count cashmere sweaters, flawless blazers, bespoke shirts and trousers with premium leather kicks. Look no further than brands like Prada, Loewe, Ami and JW Anderson for inspiration via their latest collections. Loewe's introduction of high-waisted, straight and ever-so-slightly flared pants are 10/10. Affordable options in Cos and Massimo Dutti could also do the trick too. 
This is definitely the vibe we're looking for this season. Plus, with players like Jude Bellingham getting the call-up at Real Madrid and Timothy Weah linking up with the impeccably dressed Juventus guys, it's no time before they see the vision & catch the Mediterranean wave.
Right (And Left) Wrist Van Cleef 
Drake was spot on when he sealed this trend into current culture with the above lyrics from "BackOutsideBoyz". The luxury jewelry brand – Van Cleef & Arpels – famed for their neat and lightweight four-leaf clover style "Alhambra" bracelets – have got players like Jadon Sancho spinning the block back to the store and doubling up the amount they wear on one wrist. 
The brand has really caught on due to its "lucky charm" look, which means each link gives off a personal feel to its owner. Now this may not be everyone's vibe (nor everyone's price bracket) and that's cool. More than anything this season we're looking out for similar jewelry that has a sentimental feel to it. Chains and bracelets that are delicate in weight, but valuable in their meaning fit this criteria. This new trend of jewelry with sentimental value also explains why stars like Drizzy recently grabbed Tupac's ring (before Karim Benzema got a chance) and Pharrell's chains at auction. Expensive or cheap – we're ready for ballers to follow suit.
Heavy On The Denim
If you haven't been under a rock these past few months, you'll agree that the jorts – or jeans shorts – trend has been going crazy amongst players. From LV print carpenter shorts to knee length and baggier three-quarter styles, the variety made it an easy summer staple for the likes of Leão and style heavyweight Trevoh Chalobah.
Looking ahead to the 23/24 season, it's time to turn the denim trend up a notch. After all, jorts can't be the move in the upcoming colder weather. Brands like Givenchy, Gucci, Loewe, Diesel, Y-Project and JW Anderson are dropping so many denim options back to back that we're now spoilt for choice. But these aren't the overly ripped, super bleached or distressed types we've been used to.
These are jeans in their purest form, with a heavy-weight look to them: a sign of quality. Whether that be 90s-looking light blues, mildly stonewashed grays or darker-dyed options, good denim is a vibe right now. Jeans that look sturdy & hefty, straight fit and slightly wide (but not ridiculous). We've had promising glimpses of this already, but we're definitely praying to see more across the league. Less of the overdone & typical flashy jeans, more of the traditional, tastefully finished stuff. Alright, the Denim Tears and Chrome Hearts jeans can stay too…
Tales From The Far East 
South Asia has recently provided top-notch hospitality within football over the summer. Hosting the Barcelona boys in Tokyo and welcoming Manchester City in South Korea on their pre-season tours. But it's Asia's contribution to fashion that ballers and fashion fanatics should be most grateful for.
We know the Japanese don't play when it comes to quality design and individualistic 1-of-1 drip that's made to last a lifetime. Their creation & use of materials is globally respected, as their dyeing & "boro boro" reuse/upcycling process is one that's been perfected for generations. For those looking to bring different vibes and have a fashion advantage, we recommend locking in & seeking out the rising fashion brands & trends coming out of Asia this season. You're bound to find unseen archive pieces, crazy silhouettes (again, like Kenzo) and second-to-none textiles & detailing. This is the boundless creativity and freedom football has been needing; Asian fashion and excellent craftsmanship overseas will play a big part.
Brands like Thug Club out of South Korea – already supported by the likes of ASAP Rocky, SZA and Central Cee – are bringing new interpretations of streetwear with fire designs. Their double denim sets are embroidered with their futuristic-looking star & moon "TC" logo are too hard to pass up. And the caps, tees and hoodies? A must-cop! 
Standout designers like Seoul-based Andersson Bell & LVMH prize nominee Juntae Kim are ones we hope to see featured amongst Barca's tunnel fits & rocked well at the Netherlands' national team camp. Bell knows ball, since recently the brand hosted Trevoh Chalobah front row at their Milan SS24 show. The new collection features crazy style linkups like doubled-up hoodies & leather pants patched with cargo pockets. The latter brand Juntae goes equally as hard with cropped bomber jackets and immaculately creased denim that give a two-tone effect. Phenomenal. 
Of course, long-standing luxury Asian brands like WooyoungMi & Japanese brand Sacai – most known over here for the Nike Vaporwaffle – could do with some more love in the league. Sacai's on a different level since their recent collaborations with Carhartt, which is all about upgraded workwear and fits inspired by the great outdoors. Their multi-functional dungarees and pocketed puffers, bombers, long length parka jackets with asymmetric openings would be a perfect fit for a style maverick like Michy Batshuayi. 
This one ain't just a trend, it's a movement. Get tapping into the endless brands coming out of Asia! 
Belt Buckle-Mania 
The bigger the buckle, the better! Musicians like Travis Scott & Kendrick Lamar have been rocking custom belts the size of WWE titles and we're feeling it. Seeing the strong connection between sport and music, it won't be long before we see ballers tighten up and catch onto the bucklemania effect. You won't have trouble finding your own, since Gucci has brought back the legendary double G buckle and Loewe have released belts big enough for Wild West cowboys. 
Let us know which trends you're looking out for ahead of another wavey year in the football x fashion space.
ROSELLA AYANE IS READY TO BLOOM WITH MOROCCO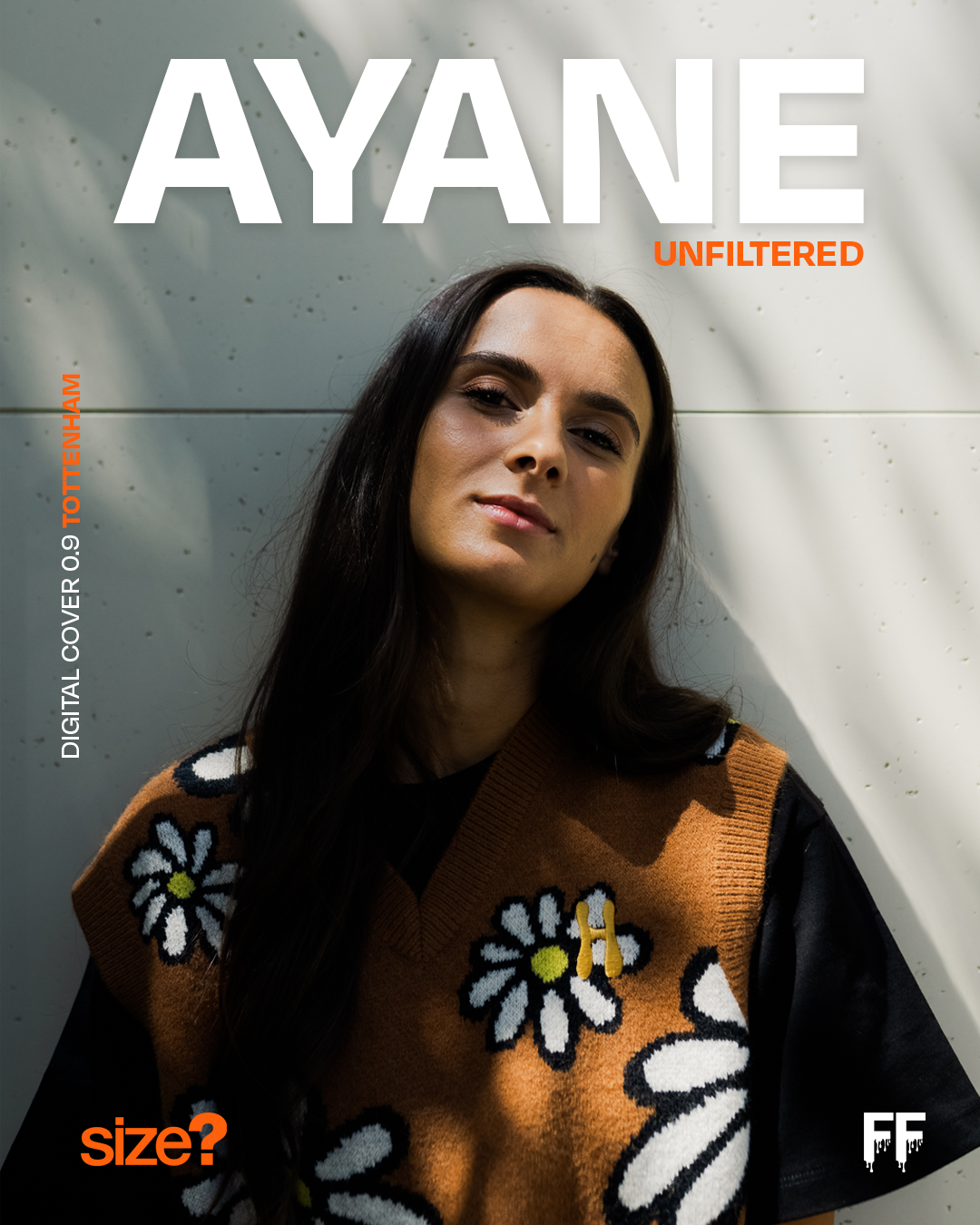 "I didn't see the dream of being a professional when I was growing up so I think we, as female players, have a responsibility to show young girls that this can be a career and playing football is something they're allowed to do," Rosella Ayane says on behalf of the countless female athletes with similar stories.
From her serene, humble yet confident and present state – almost matching this warmly sun-lit London apartment we've met her in – you'd forget that the 27-year-old will soon face the highest peak of any footballers career: representing her nation on the world stage.
Though Reading-born to a Scottish mother, Rosella's bold decision in 2021 to reconnect with her heritage and represent her father's home country Morocco has been respected and backed within the game. The African nation is only separated from Europe by the strait of Gibraltar between the Mediterranean Sea & Atlantic Ocean, but a weighty decision like that isn't made overnight. However, such a decision is more than paying off for Ayane whose AFCON semi-final spot-kick against reigning champions Nigeria sent Morocco through to not just the tournament final but to this summer's World Cup, making them the first Arab nation in women's football to qualify.
"It was a crazy moment. I should probably read a dictionary because I need to find new words for it. The atmosphere out at AFCON was incredible. I was in Marrakesh a couple of weeks ago, I hadn't been there since that moment and the reception I got was surreal," Ayane says, eyes beaming whilst reliving the experience.
"It just shows the stamp that we've put on women's football. Obviously, the men did so well at the World Cup too and I think that shows that Morocco as a footballing nation respects both the men's and women's teams. That's very evident and is still evident now from the hype we've got going into the World Cup this summer."
"It took me a while to digest and realise what we've done," Ayane says on the World Cup qualification that was seemingly against all odds. "I didn't actually realise how much history we'd made until my family listed all the achievements to me. To be the first Arab country to qualify and to do it for the first time in Morocco's history, it definitely took a while to sink in. I don't know how much will feel real when we walk out against Germany in the first game."
Whilst the success of this Atlas Lions team and the name of each player being firmly placed in the history books could be enough for Ayane, she remains far from the end goal of inspiring a generation of young girls across not just Morocco, but the world.
"There shouldn't be judgment on young girls playing football and I think we as players of the women's national team need to pave the way for girls to be footballers or whatever they want to be in life."
"Then, with more investment, the support from brands like size? and the more the game is in the public eye, you're only going to see it expand and young people will see us on the TV and in magazines like I never got to see. They'll be able to grow up and say 'I want to be like her'."
Of course, it'd be wrong to talk about this summer's World Cup without asking a star involved in her tournament predictions, something Ayane is more than happy to get stuck into. "Well, Morocco are going to be in the final of course, so that's a silly question!" she says with a smirk that quickly turns into laughter.
"If, and it's a big if, for some bizarre reason we aren't in the final, you can't take the United States lightly. The other team is really hard to choose. It really depends on who turns up during the tournament. You've got Germany, you've got France who will be a force and then Australia of course, who will do well since it's a home tournament."
"I'm going to say an unpredictable one and pick Australia. They've got a whole country behind them. People don't realise it but that is like having two extra players, not just twelve players but thirteen! Having a home crowd and that buzz, full stadiums and everyone behind them will pay off. So my final prediction is Australia vs. the United States with the US coming out on top, but this is obviously only if Morocco gets knocked out for some bizarre reason," Ayane smirks once more.
With the interest in women's football growing with each passing day, players such as Ayane are now gaining social media audiences bigger than their male counterparts, with Ayane's 217,000 Instagram followers surpassing many male Premier League stars. With that comes not just fame, but influence and responsibility, something the Moroccan doesn't take lightly.
"Speak to any female footballer and they realise the depth and magnitude of being an inspiration," Ayane says. "It's something we're very proud of. We want to help inspire the next generation and every player will sit here and say that. The bigger the game gets, the bigger we become as role models and that's something I found out after AFCON last year. It's something I'm very prideful of and I'm very happy to try to be the best role model I can be."
That level of responsibility both online and offline is something previous generations of players have not been accustomed to given the lack of coverage in the game failed to allow major growth for athletes' personal brands. For Ayane, the lack of coverage in her childhood prevented her from seeing football as a viable career option.
"If I'm honest, the coverage was non-existent when I was growing up," Ayane admits. "I didn't see the women's game on TV, I didn't see it as a profession and I didn't see it as something I could make a living from. It was just something I fell into because I loved it and year by year, I slowly found myself becoming a professional footballer. It was just step-by-step."
"One of my teammates, Becky Spencer, actually put a clip up of her playing in the FA Cup final for Birmingham donkeys years ago," Ayane recalls.
"I remember saying to her, 'I watched that game mate' and I was only about 12. That's probably the only women's game I ever remember watching on TV. That needs to change and it is slowly changing thanks to platforms such as size? being serious about pushing our game."
With more interest comes more investment which has no doubt increased the quality of the Women's Super League, most notable by last season's incredible to-the-end title race between Manchester United and Chelsea, with the Blues snatching another title late on. Ayane, who also found herself coming out on top of a battle towards the bottom of the table, believes such a level of competition is vital for the growth of the game.
"One of the reasons the Premier League in men's football is so highly respected and watched globally is because you never know who is going to win week in, week out," she says. "I think it's starting to get to that point in women's football. As you just said, with the title race, you didn't know who was going to win until toward the end. I think it was the same with the bottom of the table too."
"You didn't know who was going to get relegated until the last game of the season. That in itself speaks volumes for where women's football is going and it's a credit to everyone who is involved. With that level of competition, the quality and viewership will only get higher."
Whilst football is Ayane's one true love, fashion is also a close contender. The rise of the football and fashion crossover no longer requires any explanation. At this point, being unaware of it would raise serious questions over where one has been for the past two years. Players from all around the game, from England to Italy and male players to female, are actively showing their fits off the pitch these days and Ayane is no different.
"I just think, with fashion, it's my way to express myself away from football," she begins. "From your clothes to the way you dress and style yourself, it can say a lot about how you're feeling and your personality. I think when footballers get put in this box of just being footballers, fashion, music and all things culture-related are outlets to express yourself and prove that label wrong. Self-expression is one thing a lot of players, including myself, love doing through their clothes."
"My outfits depend on where I'm going. One thing I will say about my fashion is it's versatile. I haven't just got one look or one thing I like to base my fits on. I love to glam up but I also love to glam down. When I open my wardrobe, it depends on the event and I like to fit in with the atmosphere or the vibe but describing my style isn't black and white."
At Tottenham, Ayane is not alone in her passion for fashion…
"Fashion is big in the dressing room, definitely. A lot of the girls come in wearing outfits if they're going somewhere after training, so we've got some fashionistas at the club. I have to say Shelina Zadorsky is very well- dressed. She's always coming correct and she's always got the latest pair of trainers or she's wearing a fit everyone rates."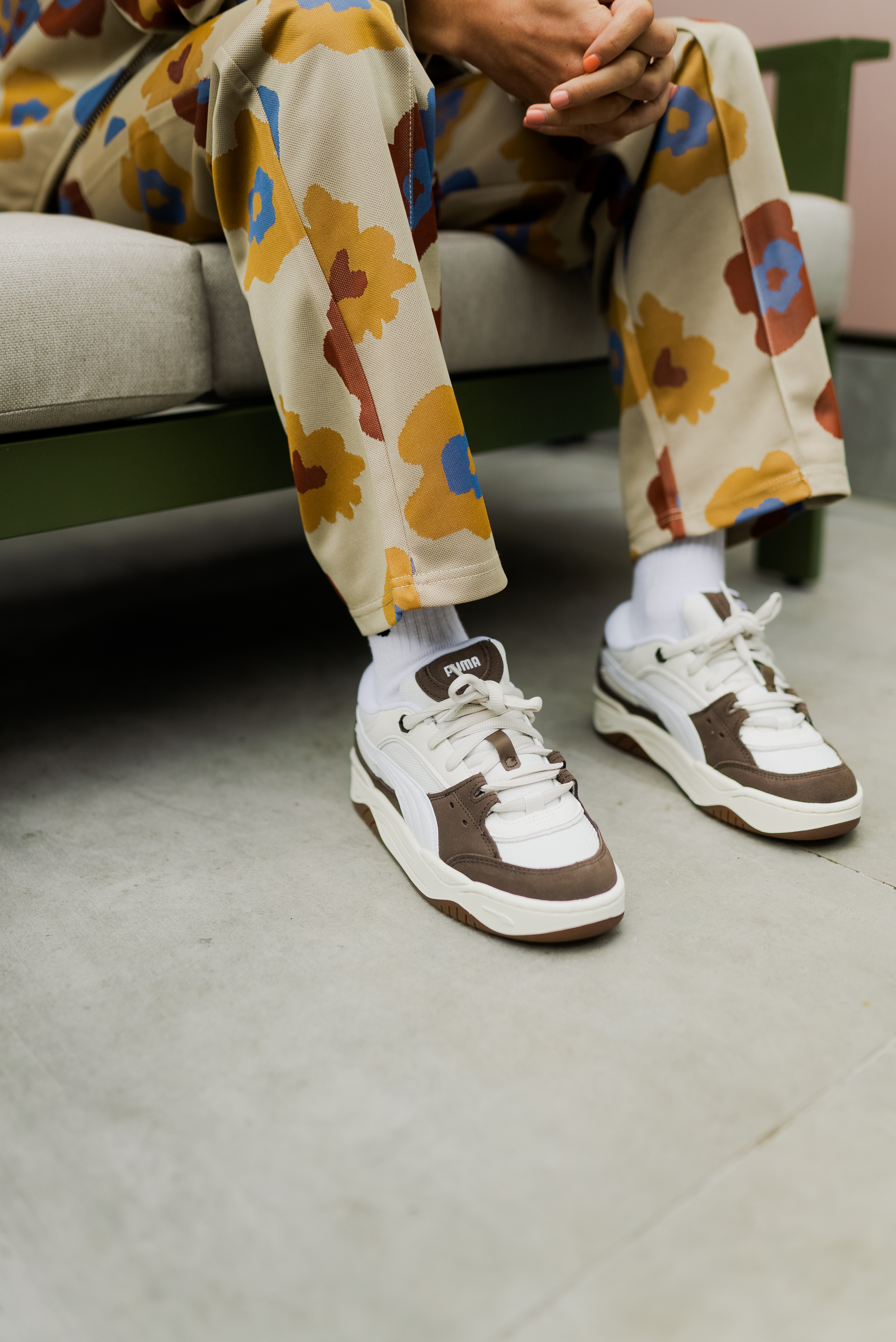 "Who could do with some help? Bless her… probably Kerys Harrop. She probably doesn't care and fair enough, not everyone cares about fashion like that but some of the clobber she has on? I probably wouldn't leave the locker room in. She probably wouldn't wear what I wear and would say I look stupid in this," Ayane laughs, pointing to her own fit. "Fashion fits everyone differently."
No matter how fly Ayane looks today or on any previous day, nobody is immune to a fashion malfunction from time to time and unfortunately for her, the latest was only a few weeks back. "I was at an event and I was sat at the dinner table and it was like awards, so black-tie and glam-glam, and I could feel something itching my back," she says, painting the scene of the calamity.
"I kept reaching towards it and thinking 'What is on my back'. I said to my mate, 'Have I got something on my back, like something crawling?' and nobody had told me or realised that I'd left a massive tag in. So I'm walking around with what looks like a GPS vest on my back because the tag is still in my dress. That, for me, is my biggest malfunction and it was on a red carpet. I went straight to the toilet and asked my friend to rip it out of my dress," Ayane says sending the room into laughter.
Footballers are competitive in anything they do. Ayane herself admits when she steps onto the pitch, her whole demeanor can change in order to get a vital win. So it's no surprise that when it comes to fashion, players want to be the best. With athletes becoming more and more interested in fashion, a debate around who sits on top in the fashion stakes is to be expected and online, it's already arrived.
For Ayane, naming a top-five list isn't an easy task but as always, she's happy to dive in.
"First, I've got to go with my girl Leah Williamson," she says on the Arsenal and England star, who is also a close friend. "She comes correct at every event, you have to give it to her. Even if I go chill at her house, she's wearing something decent and she's just sat in her house so I'll go with Leah as number one."
"Do you know whose outfits I always rate but couldn't personally wear? Lauren James and Shanice van de Sanden. Those two are always very well-dressed. Trinity Rodman has popped up on my explore page a couple of times and it's always an outfit that you think 'Okay, that's lit'. Kenza Dali is clean and she's a big sneaker girl, so I'll go with her to make up my five."
Leah Williamson. Lauren James. Shanice van de Sanden. Trinity Rodman. Kenza Dali. Some list.
Like fashion, music is another hugely popular way for athletes to express themselves without a ball at their feet. From players now making their own tracks to having their name referenced in bars, the music x football crossover is also undeniable. For Ayane, there's no doubt in her mind when it comes to her music opinions, which she happily admits will be sure to annoy some people.
"I'm probably going to get a lot of heat for this but I don't particularly care… I can't listen to Taylor Swift. I can't listen to her music and I don't understand how her tickets are so expensive. Harry Styles is another one I can't listen to. Sorry, I know I'm going to get hate for this. Harry Styles, if I had to, I could listen to him, but Taylor Swift? No. If she came on the radio, I'd turn it off immediately and listen to classical," Ayane laughs.
"My favourite track and one I'll always put on the aux is Last Last by Burna Boy. It's just a banger. It gets the room going and whatever the vibe, you can rely on that song and for me personally, it has a lot of good memories. I played it every game day at AFCON so it always brings back the good vibes."
"Most underrated artist? Good question! I'd personally go with Tems. I think she has bangers! I've had her latest album on repeat recently and I'm quite bad if I like an album, I will drown it out until people are like 'please stop'. I'll have it on repeat with no care in the world."
Ahead of the biggest summer of her life, Ayane is a pleasure to talk to. As relaxed as someone without an ounce of pressure on their shoulders, each response she offers is full of charisma, taking the time to provide depth to each response whether it be through humour or an inspirational tone as she discusses helping the next generation of Moroccans to see the dream she could never see. "You have to enjoy what you're doing," she says on her advice to young girls aspiring to be in her position.
"Whatever job you're in, you have to enjoy it. That's how the best version of yourself is going to come out. I think that's major in football. Happy players off the pitch usually play well on the pitch so I think enjoying yourself is my main bit of advice. Even if you don't want a career in football, make sure that whatever you do in life, you do it with enjoyment."
Shop all of Rosella Ayane's looks and the full size? Homegrown collection here.
In Partnership With: size?
Photography: Shane Bain
Conversation: Ryhanna Parara
Words: Jason Owusu-Frimpong